August 5, 2021
The Military Tribunal's are going to start up again in September, 2021 for KSM et al. The big lesson isn't really the tribunals themselves, but what is happening behind the scenes.
There are many various stories circulating that simply are not true. Theatrics and entertainment do not necessarily mean "TRUTH".
PIMPY has been asked to join the C-VINE team to bring to you the latest updates with Linda Forsythe and to help straighten out misconception.
Bottom line is we are here to present the facts that you the viewer MUST learn how to fact check. If someone providing a theatrical story doesn't provide that ability… we must question veracity.
You can check all GTMO events, calendar, transcripts, rulings, names of defendants on trial in the Office of Military Commissions website for the DOD here: https://www.mc.mil/home.aspx
This is an introduction that was actually created initially on PIMPY'S You Tube Channel and copied here.
It will be the first of many that will in the future continue to be broadcast from our C-VINE YouTube Channel.
The purpose of this brief introduction video, was to educate PIMPY'S following on what has been happening for the last 20 years of this slow moving Military Tribunal with the KSM et al 9/11 terror attack AND what to expect is coming.
It is important for the public to realize that it is the "behind the scenes" happenings that must be scrutinized, before we can understand the confusion and chaos orchestrated to create the GTMO drama meant to confuse.
What is coming? When Trump was President… he made it VERY clear he would not be tipping his hand to the enemy.
REMEMBER THAT.
Also know that in my opinion… it is the KSM et al tribunals that will be the keystone that sets all the dominos in play. Don't be diverted from the importance of this!
Visit the C-VINE Website everyday for the latest news vetted by our volunteers in this Foundation created for We the People here: https://c-vine.com/
Consider signing up to become a member to help support our site monthly and receive weekly newsletters on the website homepage. You do not need to be a member to have full access to the news.
~~~ Linda Forsythe
---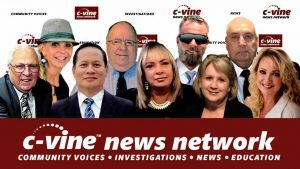 Please click and bookmark:
 C-VINE Social Media Channels 
 *C-VINE.Com, https://c-vine.com
*C-VINE-Telegram,  https://t.me/CVINENEWS
*C-VINE-MeWe, https://mewe.com/join/C-VINE
*C-VINE-Rumble,  https://rumble.com/user/CVINE
*C-VINE YouTube Channel,  https://www.youtube.com/c/CVINENewsNetwork/videos
*C-VINE Commentary & Analysis, https://www.facebook.com/groups/895771901163001/
*C-VINE Business Network,  https://www.facebook.com/groups/1242625425864710
*C-VINE Natural Health News Network, https://www.facebook.com/groups/cvinehealth
*C-VINE Patriot Prayer Brigade, https://www.facebook.com/groups/4826437259486216