October 15, 2020
C-VINE vetted
---
Epoch Times
House Republicans Call for Probe of Firm That's 'Part of Team Biden'
Three House Republicans want the Election Assistance Commission (EAC) watchdog to investigate a $35 million contract awarded to a partisan political consulting firm with deep ties to top Democrats.
Among those ties of the firm SKDKnickerbocker are close links, corporately and among many of its principals, to 2020 Democratic presidential nominee Joe Biden, the party's 2016 nominee, Hillary Clinton, and former President Barack Obama.
The GOP lawmakers told EAC Inspector General Patricia Layfield in an Oct. 12 letter: "Documents reviewed by Republican leaders of the Committees appear to show that the California Secretary of State's Office is attempting to use Help America Vote Act (HAVA) grant money from the CARES Act to fund the contract. If true, this is a violation of law."
The CARES Act is the $2.2 trillion "Coronavirus Aid, Relief, and Economic Security Act of 2020" that was approved by Congress and signed into law in March by President Donald Trump. The law was intended to assist Americans in coping with the effects of lockdowns and other restrictions prompted by the CCP virus, also known as the novel coronavirus.
Signers of the letter include Rep. Rodney Davis (R-Ill.), ranking member of the House Committee on Administration; Rep. James Comer (R-Ky.), ranking member of the House Committee on Oversight and Government Reform; and Rep. Jody Hice (R-Ga.), ranking member of the Oversight panel's Government Operations Subcommittee.
The contract was awarded on "an expedited basis" by California Secretary of State Alex Padilla to SKDKnickerbocker, "presidential candidate Joe Biden's main election campaign advisory firm," the three GOP congressmen wrote.
The purpose of the program, known as "Vote Safe California," is reportedly to "produce advertising to encourage voters to participate in the November election."
SKDKnickerbocker, a political consulting firm with offices in New York, the District of Columbia, Los Angeles, and Albany, New York, boasts on its website's homepage of being "part of Team Biden."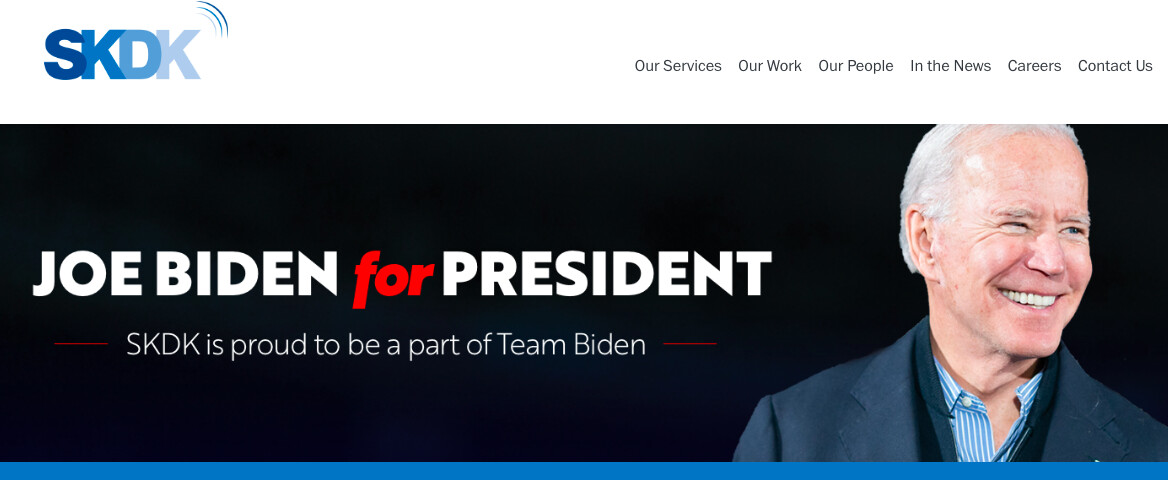 The GOP trio told Mayfield that "the first page of the document, which appears to be the contract, references HAVA funding, and the second page shows that $12 million in federal dollars will fund the project."
"According to the U.S. Election Assistance Commission (EAC), HAVA grants cannot be used to get out the vote (GOTV) or to encourage voting," they said.
"Further, the CARES Act is very specific about the use of these funds, which must be used to 'prevent, prepare for, and respond to coronavirus, domestically or internationally, for the 2020 Federal election cycle.'
"Moreover, using HAVA funds for GOTV directly contradicts the letter Secretary Padilla sent to the EAC on April 14, 2020, which described how the California Secretary of State would use CARES Act HAVA funds."
Among the lengthy list of SKDKnickerbocker principals referenced in the contract as participating in the program are Emily Campbell, the program's project manager who is listed as having "helped elect and re-elect nearly two dozen pro-choice Democratic women to governor's offices and to the United States Senate and House of Representatives, including ten in California."
Also listed is managing director and president of SKDK Digital, Jason Rosenbaum. He "led the digital advertising department for Hillary Clinton's 2016 presidential campaign," according to the contract.
"Similarly, Creative Director Matt Herath did political work [that] includes television, radio and print campaigns for New York City Mayor Mike Bloomberg, President Clinton, and President Obama," the contract said.
Listed as one of several subcontractors scheduled to work on the program is Rodriguez Strategies, headed by Matt Rodriguez, described by the contract as "a veteran Democratic strategist with more than 20 years of experience working for candidates and causes across the nation [who in 2008] served as the Western States Regional Director for Obama for America."
Comer said in a statement made public Oct. 12 that "something is rotten in the state of California. Not only was this shady contract fast-tracked to a blatant pro-Biden consulting firm, new information reveals it likely violates federal law, and Democratic operatives are running the contract and targeting specific voters."
He added that "since the California Secretary of State refuses to answer basic questions about its decision to award this contract to Team Biden allies, we call on the Election Assistance Commission Inspector General to investigate this issue and ensure taxpayer dollars are not being used illegally to encourage a Biden victory."
Layfield, who was appointed by EAC, told The Epoch Times on Oct. 13 that she has "43 years of audit experience, most recently before I took this position, in public accounting in a small firm specializing in auditing federal programs."
Contact Mark Tapscott at Mark.Tapscott@epochtimes.nyc
---
Bonnie Nirgude'
As a citizen journalist and investigative reporter, I am committed to accurately reporting the news. Wide awake, never asleep, I grew up in a 1960's patriotic household, aware of the truth behind the false narrative.