Is This Press Release from (Alleged Sept. 11 mastermind) Khalid Sheikh Mohammed's Defense Attorney, Revealing?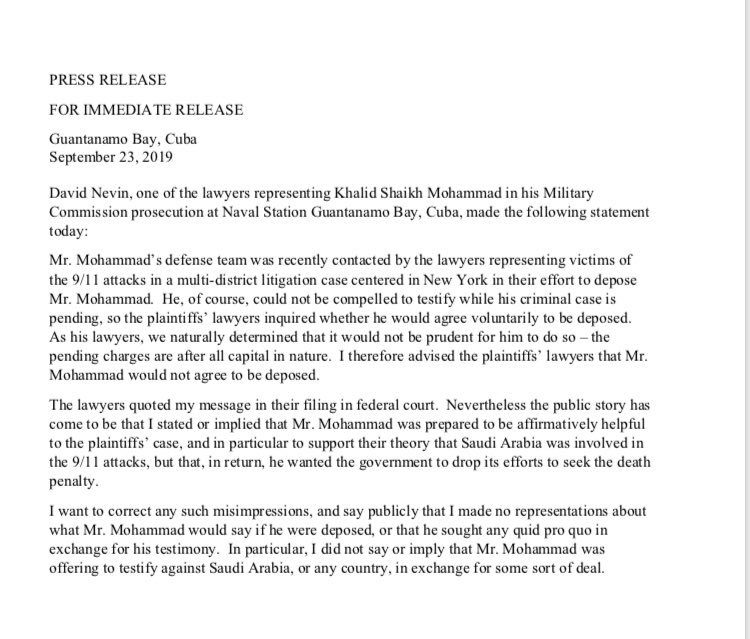 ---
Is this Press Release from the KSM Defense Attorney revealing?  In order to answer that, we will need to understand a few things first on exactly what lead up to it. The bottom line is YES, and it is good news for all of us, and the victim/family members of 9/11.
---
On the 18th Anniversary of 9/11, I chose to do my own news release, that was one of the most difficult choices I've ever had to make. After long deliberation and prayer, I realized I had to tell the world that the pre-trials for 9/11 were set up to fail from the outset AND provide proof, plus witnesses to these assertions. In other words, these Pre-trials would never make it to trial.
Many people already knew this or suspected it.  Most of all, the victims and family members of 9/11 who have been following all events closely since Sept. 11, 2001 for the last 18 years. EIGHTEEN YEARS!!! But no one in the news has been saying anything publicly until now.
"But… what about this Ordered Mandate that was made last month?"
Military Tribunal Judge Shane Cohen issued a Trial Date Order and Schedule for the 9/11, KSM et al Proceedings to be Held on January 11, 2021.
You may review the entirety of the Trial Order and Schedule

HERE

).
It was BECAUSE of this order, that I decided to come out with the information last week on 9/11.  Visiting the past proceedings since the Judge's order came out, showed me a situation of pandemonium that increased in its ferocity. The fighting and division was only expanded upon, victims and family members were sick of it and even boycotted going to one of the pre-trial shams. In all fairness, Judge Cohen has been trying in earnest to move everything forward while still following the laws in place. IMHO, the laws in place are the problem as they have been weaponized. The evidence is in the 14 years of pre-trial results thus far. The previous 5 years were when the alleged terrorists were being captured and/or detained at dark sites for enhanced interrogation by the CIA.
As it stood a week ago, everyone was just going through all the legal motions with a trial that would never end.  An endless cycle of arguing un-winnable arguments, laws put into place that made evidence inadmissible, previous pre-trial case thrown out of court after 7 years, only to go again for another 7 years of pre-trial shenanigans and headed for the same result now.
It is said enough evidence does ALREADY exist without using testimony gained from dark sight enhanced interrogations to win a guilty verdict,… except for the circus of multiple OTHER issues obstructing forward motion. Appeals and arguments in top secret closed sessions added to it all… ad nauseam. In other words, "It's complicated". (Here is the link for this report to learn the history of these trials and the fact findings from last week's report): HERE
---
Then there came an interesting offer that could be equated with nothing less than, "Making a Deal With the Devil" in order to find out the Saudi Official's name our government just flat out refuses to release! Victims and Family member of 9/11 have been fighting for years to have information released our government has possession of through taped phone calls of the planning of 9/11, 6 months before the attack took place and the Saudi Official's name that was redacted in a 2012 Federal Court proceeding that could very well be the true mastermind behind the 9/11 attacks.
WSJ Article Detailing "Alleged Mastermind Open to Helping Victims if Death Penalty Take Off the Table": HERE
WASHINGTON—Alleged Sept. 11 mastermind Khalid Sheikh Mohammed has opened the door to helping victims of the terrorist attacks in their lawsuit against Saudi Arabia if the U.S. government spares him the death penalty at a Guantanamo Bay military commission, according to court documents. Read MORE…
Appeared in the July 30, 2019, print edition as 'Key 9/11 Plotter Offers to Aid Suit To Save His Life.'
---
BUT THANKFULLY, EVERYTHING THEN CHANGED LAST WEEK!
The victims and family members of 9/11 have been fighting hard since 2012 in many lawsuits and courtrooms in order to have the redacted and classified name of a Saudi official's name who is the ultimate Master Mind of 9/11… to become declassified and released.  Keep in mind as a side note that there are also taped conversations of 9/11 co-conspirators 6 months before that horrific day in 2001 that include the name of an "institution" that have since been identified. These victims and family members have conducted years of fighting without obtaining results. Nothing was ever declassified until this last order came through.
It had been fought all the way to the point of Attorney General Barr who had until September 12, in order to make a decision about the release of the Saudi Official's name.  (Are you beginning to see why I chose September 11th as the date to declare the pre-trials are going no-where)? Enough is enough! The world deserves to know, and justice doesn't appear to be coming anytime soon with the existing system!
Barr's Decision: The Department of Justice and Federal Bureau of Investigations will be releasing the name of a previously redacted Saudi official who helped the terrorist hijackers prepare for the 9/11 attacks.
After months of urging by the families of 9/11 victims and repeated delays, the FBI said it would provide the name, but no additional information, and the name will only be provided to the families — not the public — under a protective order, NBC News reported Thursday.
The FBI said the decision was made due to the "exceptional nature of the case."
"The Attorney General has decided not to assert the State Secrets privilege over that name," the FBI said.
The Department of Justice had refused to allow the release of FBI transcripts that include redaction's in order to protect a Saudi government official, while citing national security concerns.
The families' legal team subpoenaed the FBI last year for an unredacted copy of the four-page 2012 summary of an FBI probe into three people suspected of assisting the hijackers.
The probe had revealed two of the individuals — Omar al-Bayoumi, an alleged Saudi spy who was in the U.S. and contacting the hijackers, as well as Fahadal-Thumairy, former Los Angeles consular official and Imam at the mosque the hijackers attended.
However, the name of the third individual, suspected of being an authority figure over the two named individuals and perhaps a senior Saudi official himself, was redacted.
The refusal was criticized and left families wondering why the U.S. is protecting a Saudi figure and their involvement in the 9/11 attacks, especially after 15 of the 19 hijackers were Saudi nationals.
The families have been suing the Saudi government since 2003, alleging that Saudi government officials supported the 9/11 hijackers, as well as contributed funding to Al Qaeda. The Saudi government has always denied involvement in the terror attacks.
Last year, a federal judge denied the Saudi government's motion to throw out the lawsuit. Because of the Justice Against Sponsors of Terrorism Act – passed by Congress in 2016 – the families were able to continue their legal fight against the Saudi government after the rejection.
You can read the entire story about Attorney General Barr's decision

HERE:
---
So, how has all this peripheral drama and  the on-going war of citizens, "Holding Feet to the Fire" made any difference at all? Does transparency of OPENING these proceedings to the public make a difference?
LOL! Let me tell you as a simple Citizens Journalist who has either myself, or other hard working members of our C-VINE team who've been in attendance at these pre-trials since January 28, 2019… The answer is a resounding YES! Transparency is KEY!!!
Since all this began in January of this year, never once have I seen this amount of increased tempo until AFTER Barr's announcement.
The proceedings were scheduled to be for three straight weeks, from September 9th, to September 27th, (including through the weekends).
In anticipation of Barr's decision, the DoD locked down the proceedings in a CLOSED National Security meeting in order to decide how to move the rest of the 9/11 pre-trials forward. The CLOSED proceedings went from Noon EST 9/12 through 9/13, 9/14 and Sunday, 9/15.  The first OPEN proceeding, after Barr's declaration was on 9/16.
On Monday, the difference was stark. Almost a difference between night and day!  There has been an energy shift of serious urgency of a "get er done" type of feel. While there still is National Security issues that remain silent… a number of smaller issues previously kept quiet or redacted came to light. Everything is moving forward now swiftly.
In fact, previous classified testimony made only in closed sessions, (the CIA has been fighting against testimony from witnesses) were allowed to now be made in PUBLIC.
We have heard an abundance of information come out that I will be going over as soon as this round completes.  We will hear the entire history of why and when decisions were made, certain testimony made under enhanced interrogation, words directly made from the alleged terrorists, the cycle of information and actions of the "Clean Team" put into place to obtain information given voluntarily by the alleged terrorists and an entire plethora of eye opening information coming out.
As it stands now, each proceeding has produced an average of 200 – 300 pages PER DAY of transcripts that have been released from OPEN sessions.  Well over 2000 pages SO FAR. The DoD has released these except for the most recent, but will be coming shortly in the next days.
As I continue to attend and listen to these proceedings LIVE and take notes, we at C-VINE have provided these transcripts here for your convenience to start mulling over. A report about the highlights will be provided to you upon my return in multiple video's.
If there has been any important lesson learned from these proceedings so far, it's that WE THE PEOPLE MUST BECOME MORE INVOLVED AND MAKE SURE TRANSPARENCY OF ACTIONS ARE AVAILABLE TO US.
Justice and the American Way Depend on it.
---
Daily Transcripts of KSM et 9/11 Military Tribunal Pre-Trials for September, 2019 (Source: DoD Website).
Daily transcripts will appear here as Hearings are in session.  Transcripts from past hearings may be found in the Cases area of our website in each individual Case.
U.S. v  KSM et al (2)
---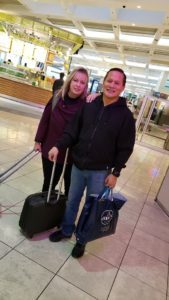 Linda Forsythe & Leonard Bacani are Patriot, Volunteer Citizen Journalists and News Commentators on C-VINE News. They work together as a team. Linda conducts most of the reporting and Leonard works with his team of Investigators on news stories.
Linda Forsythe is also the FOUNDER and architect of the C-VINE Network that includes Breaking News and an International Forum. She is not paid for any of this labor of love.
Leonard Bacani is a retired Santa Ana Police Officer and the Founder of HOMELAND SECURITY SERVICES, INC. headquartered in Southern California.HOMELAND SECURITY SERVICES, INC. is a Private Investigation, Private Security firm and State Authorized Training Facility. 
The C-VINE News Network includes a section for Education and many Social Media pages where the public can discuss or research News Stories.  In addition, a Citizen Journalist Program and Licensed Investigators Team works closely in tandem with the public to bring Late Breaking News. ALL are volunteers.
"We the People" of the world should be in charge of the news and or education… NOT the Government, or Career Politicians. And certainly not "For Profit"  or Large Corporate Entity, Main Stream Media.
C-VINE International is placed in a Charitable Trust to be run by the public and C-VINE Foundation Trustees. C-VINE is supported by donations, and volunteers. Zero advertising is allowed and is not monetized.
Click Here for Linda's Facebook Page.
Click Here for Leonard's Facebook Page
Click Here for the C-VINE International News Network GROUP Page on Facebook: Members debate, discuss, research and assist with news story Investigations.