"Let's ship them to those areas that can afford to find out what it's like with these illegals," Rep. Ralph Norman says.
October 31, 2021 By John Solomon ~ JTN
A South Carolina congressman has introduced legislation to open a dozen new ports of entry in America, seeking to shift the burden of President Joe Biden's border crisis from Texas to wealthy enclaves favored by Democrats like Martha's Vineyard, New York's trendy suburbs and Silicon Valley.
Rep. Ralph Norman, a Republican, said he introduced the Stop the Surge Act last week as a companion to similar Senate legislation sought by Sen. Ted Cruz (R-Texas). It would require all future illegal aliens captured at the border to be shipped to the wealthy, liberal enclaves.
"All these prosperous areas that you see, you know, million dollar houses, let's send them there," Norman told John Solomon Reports podcast. "And let's let them exercise what they claim to be compassion on illegals.
"Look at the strain it's going to put on the police departments, the first responders, hospitals, schools, and we're going to highlight this. … So let's ship them to those areas that can afford to find out what it's like with these illegals and deal with them."
Norman's legislation would establish 12 new ports for processing of illegal immigrants, including:
Palo Alto, Calif., the epicenter of Silicon Valley, where iconic companies like Google, Facebook and PayPal once incubated.

Greenwich, Conn., and Scarsdale, N.Y., in the shadows of New York City, two of America's wealthiest suburbs.

Rehoboth Beach, Del., where Biden's family has a vacation home.

Cambridge, Mass., a ritzy Boston suburb favored by high-tech and biotech executives.

Martha's Vineyard, Mass., the famous summer vacation bastion for liberals, including former President Barack Obama.

Nantucket, Mass.

Block Island, R.I.

North Hero, Vt., home to socialist Sen. Bernie Sanders, a former Democratic presidential candidate.
Norman's legislation would require any Homeland Security law enforcement official who encounters an illegal alien in the Southwest to transfer them to the new ports for processing and release.
"Any official of the Department of Homeland Security, upon encountering any alien who has illegally entered the United States in a covered Border Patrol sector, shall immediately relocate such alien to any of the new ports of entry," the bill states.
In a wide-ranging interview, Norman also assailed the Biden administration's agenda, saying it was imperative for House GOP Leader Kevin McCarthy and Senate Minority Leader Mitch McConnell to get all Republicans to oppose the Democrats' massive reconciliation bill.
"It's up to us to make sure we don't accomplish an agenda that's going to bankrupt the country," he said, adding that it would be very hard for the GOP to reverse policies in the future even if it won control of Congress in 2022 and the White House in 2024.
"We can talk all we want about midterms, but it is now or never as far as spending, because some of these things are going to be embedded in the government," he said. "And it's gonna be hard to unwind them, like the immigration. I mean, the 1.9 million illegals anticipated being in the country, as of December, how do you get them out? I mean, what are you going to do? Try to find them and bring them back?"
Norman said the president has assembled a record in just nine months — with the border crisis, COVID, the bungled Afghan exit and spending — that is alienating large majorities of Americans, including many who supported him in the 2020 election.
"I can't think of anything the man has done that's not harming this country in a big way," he said. "The good news is I think people are waking up to it. And I think people are going to get active, because it's up to us to ring the bell as far as the downside."
C-VINE News Volunteer Citizen Journalists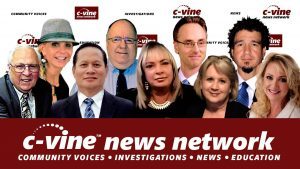 Please click and bookmark:
 C-VINE Social Media Channels 
 *C-VINE.Com, https://c-vine.com
*C-VINE-Telegram,  https://t.me/CVINENEWS
*C-VINE-MeWe, https://mewe.com/join/C-VINE
*C-VINE-Rumble,  https://rumble.com/user/CVINE
*C-VINE YouTube Channel,  https://www.youtube.com/c/CVINENewsNetwork/videos
*C-VINE Commentary & Analysis, https://www.facebook.com/groups/895771901163001/
*C-VINE Business Network,  https://www.facebook.com/groups/1242625425864710
*C-VINE Natural Health News Network, https://www.facebook.com/groups/cvinehealth
*C-VINE Patriot Prayer Brigade, https://www.facebook.com/groups/4826437259486216