November 19, 2019
---
Live: Four Witnesses to Testify in Public Impeachment Hearings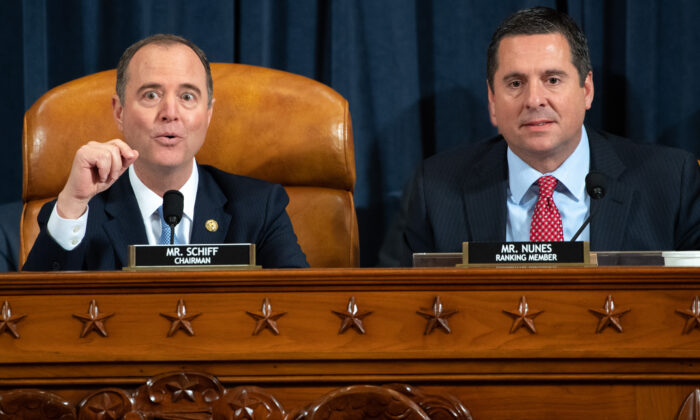 House Intelligence Chairman Adam Schiff (D-Calif.) (L) and Ranking Member Devin Nunes (R-Calif.) during the first public hearings held by the House Intelligence Committee as part of the impeachment inquiry into President Donald Trump on Capitol Hill in Washington on Nov. 13, 2019. (Saul Loeb/Pool/AFP via Getty Images)
The third day of the House Intelligence Committee's public hearings as part of the impeachment inquiry into President Donald Trump began today.
Chairman Adam Schiff (D-Calif.) said in his opening statement, "How could our diplomats urge Ukraine to refrain from political investigations of its own citizens, if the president of the United States was urging Ukraine to engage in precisely the same kind of corrupt and political investigations of one of our own citizens?"
While Rep. Devin Nunes (R-Calif.), the ranking Republican on the Intelligence Committee, noted that the mainstream media's reporting hasn't lined up with the testimonials.
Career diplomats have provided "second-hand and third-hand objections with" Trump's foreign policy mandates," he said.
"They were unable to identify any crime or impeachment offense that the president committed," he remarked, adding that this "is the same preposterous reporting that the media offered on the Russia hoax."
The media has "learned absolute nothing" in its reporting on the investigation led by former special counsel Robert Mueller and have moved on to Ukraine.
Lt. Col. Vindman, an official in the National Security Council (NSC) and Vice President Mike Pence's aide Jennifer Williams testified.
Williams is a career foreign service officer who specializes in Eastern European affairs, while Vindman is a career Army officer who was the Director for European Affairs for the United States National Security Council.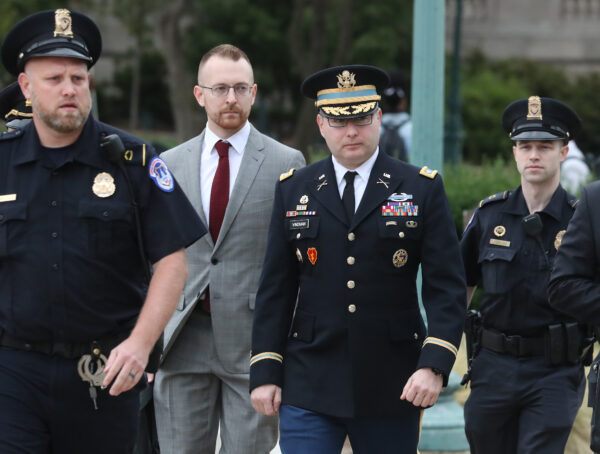 Williams said that the July 25 phone call between Trump and Ukraine President Zelensky was unusual. The phone call showed that Trump wanted his counterpart to look into alleged election interference and former Vice President Joe Biden and Hunter Biden, who sat on the board of a Ukrainian energy firm that has long been suspected of corruption. Trump has denied the allegations.
"I found the July 25th phone call unusual because, in contrast to other presidential calls I had observed, it involved discussion of what appeared to be a domestic political matter," she said.
Kurt Volker, the former U.S. special envoy to Ukraine, and Tim Morrison, a National Security Council aide, are also slated to testify.
The committee will also hear on Wednesday from Laura Cooper, a deputy assistant secretary of defense, and David Hale, a State Department official. On Thursday, David Holmes, a State Department official in Kyiv, and Fiona Hill, a former top NSC staff member for Europe and Russia, will appear.
The Associated Press contributed to this report.