November 5, 2021 By Nick Ciolino ~
The Biden administration has released the new rule from the Occupational Safety and Health Administration (OSHA) that requires 84 million private-sector workers to get vaccinated against COVID-19.
The administration has also announced its rule from the Centers for Medicare and Medicaid Services (CMS) requiring 17 million health care workers at facilities that receive federal funding to be vaccinated.
The White House is also pushing back the deadline for workers in those sectors to get fully vaccinated to Jan. 4, 2022, according to a senior administration official. That date also applies to federal contractors.
In September, the Biden administration stated it would require employees at federal contractors to get vaccinated by Dec. 8.
"We wanted to do this because we're really aligning it to make it easier—to make it as easy as possible for businesses to implement these requirements and for workers to comply," the official said when asked about pushing back the deadline.
The Biden administration received multiple letters from industries requesting the vaccination deadline be moved back until after the holiday season.
The OSHA rule requires employers with 100 or more employees to put vaccine requirements in place for all staff, or face fines of up to $13,600 per violation.
The agency can also fine an additional $13,600 per day that an employer does not abate the violation. For a willful, or serious, violation OSHA can issue a fine up to $136,000.
The agency is allowed to put into place an Emergency Temporary Standard (ETS) when it determines workers are at "grave risk."
Under the rule, workers who aren't vaccinated are required to submit a weekly negative COVID test at no expense to their employer. Unvaccinated workers are also required to wear masks when on the job. Health care workers don't have the testing option.
The ETS requires employers to determine and keep a record of the vaccination status of each employee and report all COVID deaths and hospitalizations to OSHA.
OSHA has also indicated the rule may be expanded to include small businesses. According to the 490-page document, the agency is seeking public comments "to determine whether to expand the scope of the ETS."
The rule takes effect immediately upon publication, scheduled for Nov. 5, in the federal register.
White House officials say the new ETS is well within OSHA's authority under the law and consistent with its requirements to protect workers from health and safety hazards, including infectious diseases.
They say there is well-established legal precedent for OSHA's authority to evaluate existing scientific evidence and apply data to develop safety and health standards.
The ETS says it preempts state and local laws that ban or limit an employer from requiring vaccination, face covering, or testing.
However, several Republican governors and state attorneys general vowed to fight the new OSHA rule in court.
Texas Gov. Greg Abbott issued an executive order Oct. 11 banning Texas businesses from requiring vaccines for employees, or customers.
And Florida Gov. Ron DeSantis filed suit Oct. 28 against the Biden administration's order requiring employees of federal contractors to be vaccinated.
Additional lawsuits against the administration are piling up following the release of the OSHA rule.
The attorneys general of Ohio, Kentucky, and Tennessee announced they would take legal action and filed a lawsuit in a bid to challenge the rule affecting federal contractors.
Missouri's Attorney General Eric Schmitt, Arizona Attorney General Mark Brnovich, and South Dakota Gov. Kristi Noem, all also announced their intent to sue, or join lawsuits.
The Republican National Committee said it would sue the administration and characterized the rule as an "attack on frontline workers, first responders, small businesses, and the rights of the American people."
In a statement issued on Nov. 4, Virginia Foxx (R-N.C.), the ranking Republican on the House Education and Labor Committee, confirmed that GOP lawmakers on the panel will "introduce immediately a Congressional Review Act resolution to nullify OSHA's 'emergency' rule when it is received by Congress."
The administration's rule for health care workers also is receiving pushback from several hospital CEOs who warned that it would prompt the closure of departments.
One executive in Texas warned that it would shut down an entire hospital.
Government lawyers on Nov. 3 urged a federal judge not to block vaccine mandates in response to an October lawsuit in which two dozen plaintiffs, including members of each military branch, argue that all three executive orders are unconstitutional in part because of an apparent lack of religious accommodations.
"While I would have much preferred that requirements not become necessary, too many people remain unvaccinated for us to get out of this pandemic for good," Biden said in a statement.
Despite the widespread pushback, Biden has framed the issue as a choice between getting more people vaccinated, or prolonging the COVID-19 pandemic.
However, numerous studies—including some published by the Centers for Disease Control and Prevention—have shown that vaccines don't prevent transmission of the virus.
C-VINE News Volunteer Citizen Journalists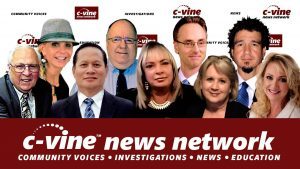 Please click and bookmark:
 C-VINE Social Media Channels 
 *C-VINE.Com, https://c-vine.com
*C-VINE-Telegram,  https://t.me/CVINENEWS
*C-VINE-MeWe, https://mewe.com/join/C-VINE
*C-VINE-Rumble,  https://rumble.com/user/CVINE
*C-VINE YouTube Channel,  https://www.youtube.com/c/CVINENewsNetwork/videos
*C-VINE Commentary & Analysis, https://www.facebook.com/groups/895771901163001/
*C-VINE Business Network,  https://www.facebook.com/groups/1242625425864710
*C-VINE Natural Health News Network, https://www.facebook.com/groups/cvinehealth
*C-VINE Patriot Prayer Brigade, https://www.facebook.com/groups/4826437259486216