September 14, 2020
Below, is the NewsGuard Response and Discovery Request to C-VINE in This Evolving Report on How a Website Rating Service Works. The Initial Report Including (e-mail) Request & Response is Linked Below at the Bottom….
Since C-VINE is made up Volunteers from "We the People", we have also posted this RATING REQUEST on our FaceBook Group for C-VINE News, so our Volunteers may also weigh in on the NewsGuard Request and begin Fact Checking, compiling responses to questions and conducting a background checks into NewsGuard. You may monitor this process in our Facebook Group.
---
Hi, Linda,
Many thanks for getting back to me, and I appreciate all of the info that you've already provided. I'm happy to answer some questions about myself and the work that we do.
I'm listing my questions for the website below for public comment. NewsGuard's purpose in reaching out to the websites that it rates is to verify information and include the site's comments.
1. In your previous email, you noted that C-VINE was set up so that it could never be owned by an individual. One of our criteria for transparency is disclosing a website's ownership in a reader-friendly way. I see on the About Us page that you are identified as the website's founder and architect—is C-VINE International the owner of the website? If so, is there a reason that that is not stated more explicitly?
2. You also noted that the site does not run advertisements and is not monetized in any way. I noticed that C-VINE has an online shop and also encourages readers to donate. Does that revenue go toward running the website?
4. How does C-VINE differentiate between news and opinion content? I noticed that some articles include "Opinion" in the headline, but others include an "opinion: author name" tag at the end of the articles while being filed in the Breaking News section. Do you consider the latter to be adequate disclosure that the article is opinion?
5. I noted several instances of apparently misleading and false information on the website, as well as misleading or false headlines. I would appreciate your comment on these specific examples (I'm including article names and dates as requested):
The story "CDC Quietly Lowers C-19 Death Count to 6%" (Aug. 31, 2020) states that "there were only 9,210 actual COVID deaths" because deaths were listed as COVID even in cases where patients had underlying conditions. The CDC's public reporting on COVID-19 deaths does indicate that COVID-19 was the only cause of death listed for 6% of cases. However, numerous sources, including the CDC, news outlets like The Associated Press, and experts in the global health field, have confirmed that does not mean that people with underlying illnesses did not die from the disease. At present, the death count for COVID-19 in the U.S. stands at 192,000.
Another story about COVID-19, "Does Dr. Fauci Have a Conflict of Interests?" (May 13, 2020), suggests that Dr. Fauci has financial ties to Gilead Sciences, a pharmaceutical company the article says Fauci is promoting. Fauci has promoted remdesivir (a Gilead product) as a potential drug for COVID-19, however he does not have any known links to Gilead Sciences and would not profit off of the drug, which is owned wholly by Gilead. Remdesivir has not been approved by the FDA for any indication, including COVID-19.
The story "Does Director of National Institute of Health Accidentally Push Therapeutics"? (Aug. 14, 2020), states that Kamala Harris cannot become President of the United States because neither of her parents are natural-born citizens. This is a claim that has been debunked by numerous fact-checking organizations. Harris was born in Oakland, California, in 1964, meaning that she is a natural-born citizen, and the U.S. Constitution says that "no person except a natural born citizen, or a citizen of the United States…shall be eligible for the office of President."
The story "Has Madam Ghislane Maxwell Opened Pandora's Box?" discussed the theory that Wayfair has been trafficking children through overpriced items on its website. This has also been debunked by a number of outlets, and Wayfair has issued a statement denying the allegations. In addition, two missing children identified as victims came forward to say that the claims were not true.
The website discusses QAnon regularly, including in an undated story headlined "The Great Awakening Movement," which explains QAnon. In May 2019, the FBI identified QAnon as a "fringe political" conspiracy group, and multiple news outlets have found no evidence to back the group's claims.
I appreciate your time and look forward to hearing back from you.
Thanks,
Anicka
---
Initial e-mail request (screenshot) from NewsGuard to C-VINE  BELOW.
---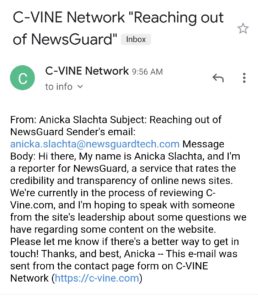 Linda Forsythe is a Volunteer Citizen Journalist. Patriot, Grandma, Reporter of the 9/11, KSM et al,  Pre-trial Tribunals from GTMO and Founder of C-VINE.You May Join Lively Discussions with other Members on the C-VINE Website Forum or on the Facebook GROUP Page here… https://www.facebook.com/groups/CvineNewsTalk/
We would be grateful for one time donations at: https://c-vine.com/donate-now/ OR become a Member of C-VINE for a regular monthly donation at: https://c-vine.com/membership-donation/