PARIS –  Heavily Armed French Police deployed tear gas and stun grenades against a group of "Yellow Vests" gathered in central Paris demanding Emmanuel Macron' Step Down.
Protesters threw the tear gas back at the police, only to escalate the clashes.
Many protesters slammed the French media for falsely portraying the protests as being led by violent agitators and for siding with Macron's government.
"We are not black bloc [black clad anarchists], we are ordinary people voicing our anger," said a protester who did not want to be identified.
Up to 5,000 demonstrators gathered in the center of Paris Saturday morning, where they were met by some 8,000 police officers and at least 12 armored vehicles. More than 500 people have been arrested.
"We are not here to destroy Paris, we are here to tell Macron we are f–king fed up," said one protester before the clashes with the police began, adding that the people are protesting ever-increasing taxes on the working class.
French police, wearing riot gear, tried to stop and search protesters entering the Champs Elysees, but such efforts were eventually abandoned with the flow of thousands of demonstrators.
Police deployed tear gas and stun grenades after getting cornered, with some agitators starting to throw plastic bottles.
Water cannons were used near Arc de Triomphe, which is safeguarded this weekend after protesters defaced it during the previous weekends.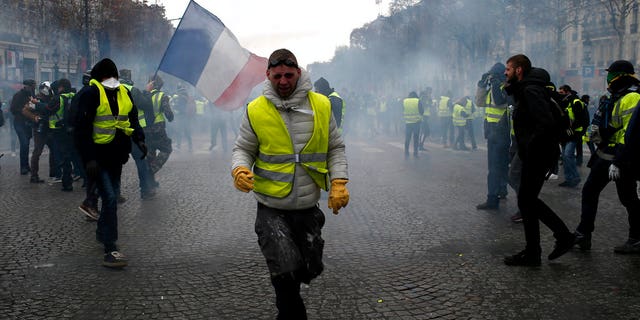 Some protesters were seen throwing rocks and glass bottles at police officers, sparking a continued flow of tear gas to contain the crowd.
NOTE: At least one of the business buildings was breached, with agitators breaking the wooden walls aimed at protecting the business and smashing windows. Protesters, wearing all black, began looting after storming a phone seller… but the Yellow Vests, fearing the image of widespread destruction and looting, confronted the criminals, telling them to stop.
One individual used mace spray, although it's unclear if it was used on a looter. At least one looter was also pinned down on the floor and kicked for breaching the store.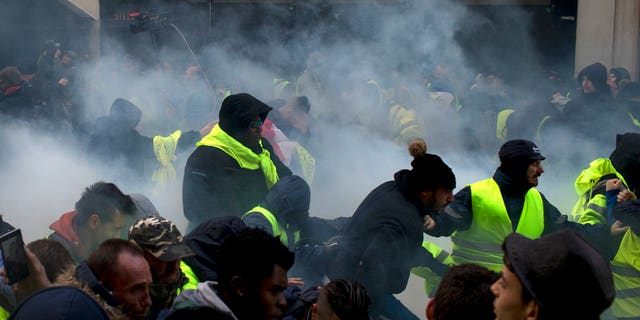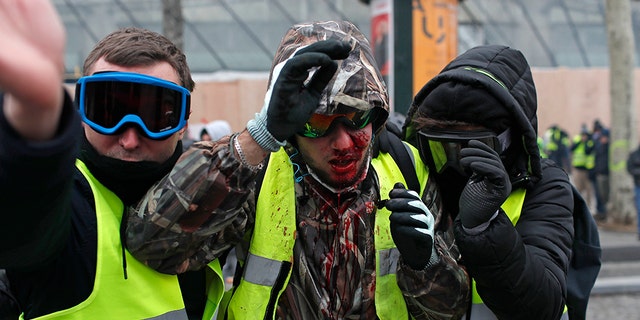 President Trump meanwhile twisted the knife, tweeting Saturday morning: "The Paris Agreement isn't working out so well for Paris. Protests and riots all over France.
"People do not want to pay large sums of money, much to third world countries (that are questionably run), in order to maybe protect the environment. Chanting "We Want Trump!" Love France."
Shops and tourist destinations, including the Eiffel Tower, were closed and soccer matches were canceled as authorities looked to maintain order.
The U.S. Embassy requested that Americans in the French capital "keep a low profile and avoid crowds," the report said.
"As a precaution, nearly 300 people were arrested ahead of Saturday's expected disturbances", the report said. Just a week earlier some 200 cars were torched and the famed Arc de Triomphe was vandalized as protesters expressed opposition to Macron's government, according to the report.
Rising fuel prices triggered the initial protests, but some officials claimed that "ultra-violent" demonstrators took advantage of the situation, according to the BBC.
Meanwhile, Macron seemingly has gone missing as his government tries to curb the chaos caused by his unpopular gas-tax plan.
Macron swept into power in 2017, having emerged out of obscurity less than a year earlier. Espousing his own brand of centrism, he has presented himself on the world stage as a spokesman for multilateralism and internationalism against a nationalist wave moving through Europe.
While he has regularly been seen on world stages, including the United Nations and the U.S. Congress, his absence has been conspicuous this week, choosing to keep away from the limelight as his government attempts to deal with protesters' concerns.
---
Fox News' Adam Shaw and The Associated Press contributed to this report.
---
NOTE: This article was posted by our C-VINE team of volunteer workers, investigative reporters, and citizen journalists, who make certain all information is vetted for accuracy before publishing. C-VINE News is placed in a Foundation, also called a Charitable Trust and is run by, "We the People".
Conversations and discussions are being held on the C-VINE News Talk – Facebook Group Page. (Must be a Facebook member): C-VINE News Talk