"It's a hoax. It's all a hoax, folks," Trump said.
Transparency Goes Both Ways:   What's good for the whistleblower is good for the Biden's – father and son. 
---
Trump: Transparency for Whistleblower, but Also for Joe Biden and Hunter Biden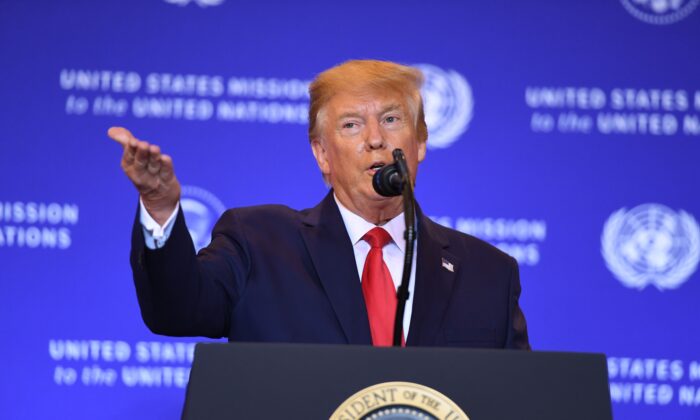 President Donald Trump said he told members of the House of Representatives that he supports transparency for the alleged whistleblower who filed a complaint about Trump's July phone call with Ukranian President Volodymyr Zelensky.
Trump said he told House Minority Leader Kevin McCarthy (R-Calif.) and Republican members that he "fully supports transparency on the so-called whistleblower information, even though it was secondhand information, which is interesting."
"But also insist on transparency from Joe Biden and his son Hunter Biden on the millions of dollars that have quickly and easily taken out of Ukraine and China. Millions of dollars, millions and millions of dollars taken out very rapidly while he was vice president and I think he should have transparency about that," Trump said at a press conference at the United Nations in New York on Sept. 25.
Biden said last year that he pressured then-Ukranian President Petro Poroshenko while he was in office to fire a prosecutor. That prosecutor was probing Burisma, a company that Hunter Biden worked for until early this year.
"Additionally I demand transparency from Democrats who went to Ukraine and attempted to force the new president … they went there and they wanted to force the new president to do things they wanted under the form of political threat," Trump said. "They threatened him if he didn't do things. That's what they're accusing me of but I didn't do anything."
---
TWITTER:
I have informed @GOPLeader Kevin McCarthy and all Republicans in the House that I fully support transparency on so-called whistleblower information but also insist on transparency from Joe Biden and his son Hunter, on the millions of dollars that have been quickly and easily…
---
"In the letter, they implied that their support for U.S. assistance for Ukraine was at stake," Trump said. "If they didn't do the right thing, they wouldn't get any assistance. Doesn't that sound familiar?"
The president then turned to Sen. Chris Murphy (D-Conn.) who "literally threatened" the president of Ukraine "that if he doesn't do things right that they won't have Democratic support in Congress," Trump added.
Murphy told the New York Times recently that he spoke with Zelensky and told him not to listen to Trump's lawyer Rudy Giuliani about the possible probe, warning the president that if his country investigated Biden it could threaten America's support for Ukraine.
It would be "disastrous for long-term U.S.-Ukraine relations," Murphy said. He claimed that he was not interfering in Ukrainian politics.
---
As a citizen journalist and investigative reporter, I am committed to accurately reporting the news. Wide awake, never asleep, I grew up in a 1960's patriotic household, aware of the truth behind the false narrative.