August 17, 2021 ~ By Jack Phillips ~
A U.S. general said he won't respond to reports of Taliban members capturing American military weapons and vehicles.
Photos and video footage over the past week showed large caches of weapons, including M-16 rifles and Humvees, being commandeered by the Taliban, considered by some governments to be a terrorist organization. Taliban members were seen holding American-made M-4 carbines and M-16 rifles that were discarded by Afghan military units.
When asked about the captured military equipment and weapons and whether American forces are attempting to prevent them from falling into the hands of the group, Maj. Gen. Hank Taylor responded: "I don't have the answer to that question."
The American rifles are more accurate and have a greater range than the AK-47-style rifles used by the Taliban, although AK-47s are easier to clean and are considered more durable. However, the 5.56mm NATO round that the American weapons use is plentiful and is available to private gun owners in the United States.
There were reports of Taliban members capturing military helicopters. One video appeared to show a Taliban-captured helicopter providing air support.
Q: "Is the U.S. taking any other sort of steps to prevent aircraft of other military equipment from falling into the hands of the Taliban?"

Major General Hank Taylor: "I don't have the answer to that question."

— CSPAN (@cspan) August 16, 2021
Afghanistan's Taliban, with smaller numbers, less sophisticated weaponry, and no air power, proved a superior force. U.S. intelligence agencies largely underestimated the scope of that superiority, and even after President Joe Biden announced in April he was withdrawing all U.S. troops, the intelligence agencies did not foresee a Taliban final offensive that would succeed so spectacularly.
Across Afghanistan, the International Committee of the Red Cross said thousands had been wounded in fighting as the Taliban swept across the country in recent days. However, in many places, security forces and politicians handed over their provinces and bases without a fight, likely fearing what would happen when the last American troops withdrew as planned at the end of the month.
As President Joe Biden did, NATO Secretary-General Jens Stoltenberg said the swift collapse of the country's government was due to the failure of Afghan leadership. However, he added that the alliance must also uncover flaws in its effort to train the Afghan military.
The Associated Press contributed to this report.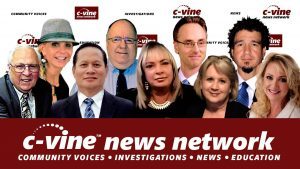 Posted by C-VINE News Volunteer Citizen Journalists
Please click and bookmark:
 C-VINE Social Media Channels 
 *C-VINE.Com, https://c-vine.com
*C-VINE-Telegram,  https://t.me/CVINENEWS
*C-VINE-MeWe, https://mewe.com/join/C-VINE
*C-VINE-Rumble,  https://rumble.com/user/CVINE
*C-VINE YouTube Channel,  https://www.youtube.com/c/CVINENewsNetwork/videos
*C-VINE Commentary & Analysis, https://www.facebook.com/groups/895771901163001/
*C-VINE Business Network,  https://www.facebook.com/groups/1242625425864710
*C-VINE Natural Health News Network, https://www.facebook.com/groups/cvinehealth
*C-VINE Patriot Prayer Brigade, https://www.facebook.com/groups/4826437259486216