March 12, 2020
Emergency structures were set up to help overflow at Brescia Hospital in Northern Italy  (Luca Bruno/AP Photo)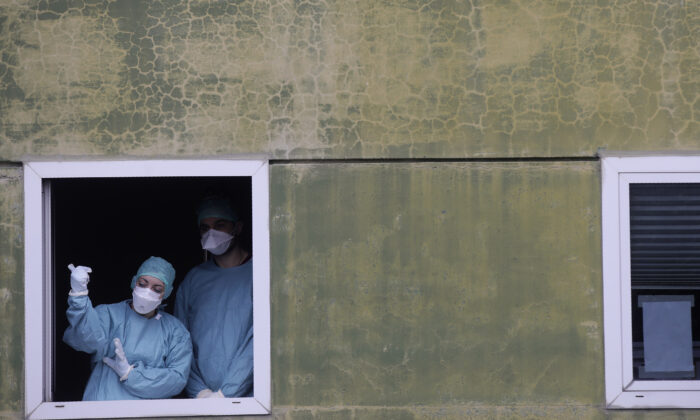 ---
US Health Officials Back Trump's Europe Travel Ban
"Over 70 percent of the new cases are linked to the Europe," Centers for Disease Control and Prevention Director Dr. Robert Redfield told lawmakers in Washington.
"And in the United States, I think it was now 30 states in our country or more were linked actually to cases in Europe. Europe is the new China."
Asked if the ban would have a significant impact on reducing the community spread of the coronavirus, Dr. Anthony Fauci, director of the National Institute of Allergy and Infectious Disease, said yes.
"The answer is a firm yes," he told the lawmakers during a House Oversight and Reform Committee hearing.
"That was the reason, the rationale, the public health rationale why that recommendation was made," he added.
Patients from Europe are "seeding other countries," Fauci added, restating that dozens of U.S. states have infections from European countries. "So it was pretty compelling that we needed to turn off the source from that region," he said.
Trump on Wednesday night said that travelers from Europe's Schengen Area wouldn't be allowed into the United States for a month starting on Friday at midnight.
While the United States restricted travel from China, where the virus started last year, on Jan. 31, many European countries failed to do so, he said.
"As a result, a large number of new clusters in the United States were seeded by travelers from Europe," he said. The ban was announced "to keep new cases from entering our shores."
The 26 countries in the area include France, Germany, and Italy. The European countries not in the zone, which allows unrestricted movement within it, include Ireland, Romania, Bulgaria, Croatia, and Cyprus.
Italy has one of the highest case counts in the world and is nearing 1,000 deaths from the illness, while other European countries have seen a rapid increase in cases. France, Germany, and Spain, for instance, all have over 2,000 confirmed cases.
European leaders condemned the ban, saying they weren't consulted before it was announced.
Trump told reporters at the White House on Thursday that American officials "had to make a decision."
"It takes a long time to make the individual calls," he said, adding that some European officials were told prior to the announcement. "We had to move quickly."
"When they raise taxes on us, they don't consult us. I think that's probably one and the same," he said.
---
~  Zachary Stieber @zackstieber