November 19, 2020
~ Opinion
"What is this, a joke?"
This is the Rockefeller Christmas tree for 2020.
It depicts New York City as it stands today: broken, empty, drained of its life, by failed leadership and incompetence…
By the appearance of the pathetic 2020 Rockefeller Christmas tree, I'd say the Rockefellers are in a heap of trouble.  You think we've had it rough? The Rockefeller Fam is being exposed for the corrupt money-grabbing control mob they really are.
It rather reminds me of what the Liberal (i.e. One World Order) has done to New York City.  Dried up, falling apart – a broken city abused by merciless criminals.
Slowly, methodically, and with military precision, the crime mobster One World Order Cabal/Communists will be dealt with. They were adept at hiding in plain sight, under magnanimous-sounding names like The Rockefeller Foundation, The Clinton Foundation, CCP, CNN, to mention a few.  Were.
If this Rockefeller scraggly tree effort attempts to drag us down, don't let it. It's really more symbolic for them.  What seemingly appeared to be a vibrant healthy tree prior to cutting, is not all that vibrant after all – just like the Rockefellers.
One last tidbit:  I find it ironic how an OWL came along for the ride!  (What does the Owl symbol stand for?) This is just too much fun!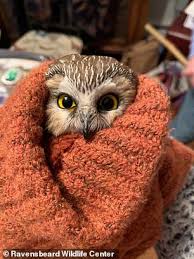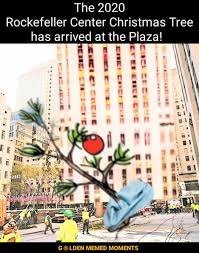 Christmas is coming and it's going to be one of the best yet.
I vote for Charlie Brown!
Opinion ~ Bonnie Nirgude'
https://twitter.com/sassyzeni/status/1328847450728067072?s=20
---
Pathetic Rockefeller Plaza Christmas Tree 'On Brand' For 2020
Conservative Review
"…does not look like it had a particularly good 2020."
For more than eight decades, the Rockefeller Center Christmas tree has been emblematic of the holiday season, visited by millions of people in the heart of America's largest city.
Two years ago, the tree keepers unveiled a new nine-foot star atop the the 72-foot-tall Christmas tree, featuring 3 million Swarovski crystals. And in 1999, the tree stood at 100 feet.
But this year, oh boy, this year.
It's 2020, whose motto must be "Whatever can go wrong will go wrong." It is, after all, the year of the pandemic, of lockdowns, of masks and, of course, of murder hornets.
This year, tree keepers picked a giant Norway spruce in Oneonta, New York, to erect in Midtown Manhattan. The 75-foot tree arrived on Saturday with a police escort and was lifted into position by crane.
But as with everything in 2020, the tree was a huge disappointment, and while the tree won't be decorated and lit up until next month, social media users lit it up in a slew of hilarious posts.
"Could the Rockefeller Center Christmas Tree look any worse? 2020 on brand," former NBA player Rex Chapman told his one million followers on Twitter.
See Video ↓
As the video shows, when the workers took the protective wrapping off the tree, the branches fell into place and, well, looked terrible — sparse and oddly disheveled.
"What is this, a joke? This is the Rockefeller Christmas tree for 2020. It depicts @NYCMayor's city as it stands today: broken, empty, drained of its life, by failed leadership and incompetence," wrote former New York Police Department Chief Bernard Kerik.
Improv comic Emily Brandwin jumped into to compare the tree to the sad little nub beloved by Charlie Brown.
"Charlie Brown: I have the saddest Christmas Tree. Rockefeller Center: Hold my beer," she wrote on Twitter.
The tree looked pretty good in its natural habitat, which was in a homeowner's yard right next to their house.
"Say hello to the 2020 Rockefeller Center Christmas Tree! Hailing from Oneonta, NY, this Norway Spruce will arrive at Rockefeller Center this Saturday, November 14 to kick off the holiday season," the center said in a Twitter post.
In another post, you can see just how tall and seemingly perfect the tree is.
---
BONNIE NIRGUDE'
As a citizen journalist and investigative reporter, I am committed to accurately reporting the news. Wide awake, never asleep, I grew up in a 1960's patriotic household, aware of the truth behind the false narrative.