According to police, the protest at North Bend, Washington turned out to be peaceful.
The protest was organized by high school students and was intended to be a peaceful gathering. Fears of Antifa hijacking the protest made many nervous.  Downtown businesses boarded up their store fronts as a precaution when they learned of the planned protest. They were leery of people and groups from out of the area coming into their town to destroy everything and to start violence.
Long time residents turned out at the behest of business owners to help deter vandalism or violence. Some openly carried firearms.  Residents and business people said they did not mind the protest, as long as the protesters remained peaceful. Stores offered bottles of water to the crowd and one doughnut shop owner offered free doughnuts to the crowd.
Heavy police presence assisted in calming the fears of jittery business owners. The on scene police Incident Commander, Captain Almquest told me except for a few minor incidents, the protest was peaceful. He did not elaborate on what the incidents were. He estimated approximately 60 officers were present. The Snoqualmie-North Bend Police Department was assisted by surrounding police agencies.
Officers were stationed on every corner and along the streets. Some police were on top of the buildings monitoring the crowd below them. Officials said they were aware of Antifa presence, and were monitoring their activities. Because of the article previously written warning the public of preliminary activities by them, Antiifa did not hijack this protest.
Protesting is a constitutional right that we should proudly use whenever we want to express ourselves. Whenever a protest turns violent… it then is classified as a riot. There are many incidents around the United States, in the last couple of days of Antifa being deterred from causing trouble when they were aware public officials or citizens where going to resist allowing violence.
ANTIFA just cancelled their protest in Placerville, CA today when the Hell's Angels said they would be meeting them there.

Love being on the RIGHT side!

— DeAnna Lorraine ?? (@DeAnna4Congress) June 6, 2020
Much smaller crowd in D.C. than anticipated. National Guard, Secret Service, and D.C. Police have been doing a fantastic job. Thank you!

— Donald J. Trump (@realDonaldTrump) June 7, 2020
A few hundred people turned out at the corner of North Bend Way and Bendigo Blvd, many carrying signs and placards of "Black lives matter" , "I can't breathe", "Defund the Police."   Some were just curious onlookers. There were families with children of all ages. Motorists who supported the protest drove by while honking their horns.
Chants such as "hands up don't shoot", "no justice, no peace", "what do we want?, Justice, when do we want it, now".  At one point, protesters knelled with both arms raised and chanted. Speakers who spoke mocked and spoke out against President Trump and encouraged everyone to vote for democrats in this upcoming elections.
There were a few counter protesters who waved American flags and held signs that said "Blue Lives Matter Too"
By all accounts the protest was, as a protest should be…peaceful.  The fears of Antifa showing up to create havoc never materialized. It is clear the Snoqualmie-North Bend Police Department was well prepared and executed their operations plan professionally. Word of towns people banding together to protect their town and exercising their second amendment right to protect themselves, along with a strong police presence, may also have deterred any trouble makers from showing up to create chaos.
God bless America and our constitution that protects her!
---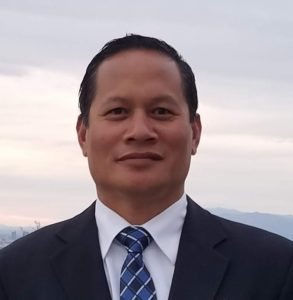 Leonard Bacani is a retired Santa Ana Police Officer and the Founder of HOMELAND SECURITY SERVICES, INC. headquartered in Southern California.HOMELAND SECURITY SERVICES, INC. is a Private Investigation, Private Security firm and State Authorized Training Facility. Contact Leonard at LBacani@hssinc.us for assistance or call the office: (714) 865-1135.      Website: http://www.homelandsecurityservices.com
Follow Leonard on Twitter @LeonardBacani1