August 16. 2021 ~ Thousands of Afghans overrun Kabul Airport and risk their lives to try and catch the last flights out of Kabul after the fall of the Afghan government while the Taliban occupies the government offices and the US Embassy on Sunday. About a hundred people swarmed a taxiing US cargo jet to try and escape. A few people that managed to climb on the US Air Force jet fell to their deaths after take off. Attached are additional video clips  – mature audiences – not recommended for children. C-VINE News Network.
Taliban Leader Declared New President, Afghanistan to Soon Get New Name After 20-Year Insurgency.
August 16, 2021 ~ By Jack Davis ~ The Western Journal ~
Kabul, soon to be the capital of what will be formally known as the Islamic Emirate of Afghanistan, had a blend of fear and panic with patches of surface calm Monday, one day after the Taliban took control of the city.
The Muslim outlet Ummid News reported that Mullah Abdul Ghani Baradar has been declared president, replacing Ashraf Ghani, who fled as the Taliban moved on the capital.
Baradar, a co-founder of the Taliban with Mullah Omar, was captured in Pakistan in 2010 but released in 2018, according to the Associated Press.
He was part of the team of negotiators who met with Secretary of State Mike Pompeo and other officials in Qatar in September 2020.
Baradar issued a rose-tinged statement about Afghanistan's future on Sunday.
"Now it will be shown how we can serve our nation. We can assure that our nation has a peaceful life and a better future," he said, according to The New York Times.
"There was no expectation that we would achieve victory in this war," Baradar said. "But this came with the help of Allah, therefore we should be thankful to Him, be humble in front of Him, so that we do not act arrogantly."
Mullah Baradar to Taliban: "we have reached a victory that wasn't expected…we should show humility in front of Allah…now it's time of test — now it's about how we serve and secure our people, and ensure their future/good life to best of ability"
Although the Taliban have the smooth patter of 2021 down pat, no one should think that the Islamic group has changed, said retired U.S. Army Brig. Gen. Mark Kimmitt, an assistant secretary of state for political affairs in the administration of former President George W. Bush administration, according to CNN.
"The Taliban 2.0 are no different from the Taliban 1.0. They just have a much better public relations campaign," Kimmitt said.
"They're not going to start out their new rule with attempting to stop innocent diplomats and innocent civilians from getting out of the country. In fact, the last thing they want to do is start a fight because the best thing for them would be to get everyone out of the country so they can re-establish control," he said.
"They're just masters at deception. They're masters at propaganda. They're masters at psychological warfare," Kimmitt added. "So let's not fool ourselves by the propaganda. In six months this will be Taliban 1.0, pre-2001."
Although Kabul's streets were mostly quiet Monday, many were doing their best to flee.
"Greetings, the Taliban have reached the city. We are escaping," Sahraa Karimi, the head of Afghan Film, said in a Facebook post, according to the Times.
Some were so desperate for help they turned to the Taliban.
Abdul Jabar Safi, head of the Kabul Industrial Park, an area of hundreds of factories and businesses, said he has been trying to find a few terrorists to watch his buildings.
"We want the Taliban to reach us as soon as possible so they can secure the area," he told the Times. "We are in touch with the Taliban and they have assured us that until they reach the industrial park we must keep the security of the park by ourselves."
But mostly, the day was a day of panic for those who expect that their choices are to leave or die.
"I think you'll probably see history describe this as a day that will live in infamy," CNN anchor Christiane Amanpour said Sunday.
"You have in 20 years, and fast approaching the anniversary of 9/11, the very reason for the United States to enter Afghanistan and to correctly push back al-Qaida and the Taliban, which attacked the homeland, has now been completely and utterly handed back to the Taliban," she said.
"They have been handed back, by the United States' rapid withdrawal, the land of Afghanistan. And I think what you're hearing from a lot of American military is a deep sense of regret. A deep sense that this perhaps did not need to happen," Amanpour said.
British Defense Secretary Ben Wallace admitted that when it came to Afghan allies, "some people won't get back" from Kabul.
"It's sad and the West has done what it's done. We have to do our very best to get people out and stand by our obligations and 20 years of sacrifice," Wallace told LBC.
Biden Admin Does the Unthinkable with Instructions to Terrified Americans Trapped in Kabul. Hide and go online to fill out an evacuation form …
August 15, 2021 By Jack Davis ~ The Western Journal ~
The State Department on Sunday told Americans in Kabul that their best chance of survival is to hide.
"The security situation in Kabul is changing quickly including at the airport. There are reports of the airport taking fire; therefore we are instructing U.S. citizens to shelter in place," the U.S. Embassy in Afghanistan said in a statement published on its website on Sunday.
The embassy then told everyone that even as the Taliban took over Kabul, it is vital to have the proper paperwork in order.
And access to electrical power and a working Wi-Fi connection are apparently necessary, too.
"U.S. citizens wanting assistance in departing the country should register for any option that might be identified to return to the United States, and must complete this Repatriation Assistance Request for each traveler in their group," the embassy notice said.
 "Spouses and minor children of U.S. citizens in Afghanistan who are awaiting immigrant visas should also complete this form if they wish to depart. Please do so as soon as possible. You must complete this form even if you've previously submitted your information to the U.S. Embassy in Kabul," it said.
The Afghan and American flags in Kabul are down. The Taliban flag will soon be flying along side that of Al Qaeda as we head into the 20th anniversary of 9/11. I'm disgusted.

— Rep. Mike Waltz (@michaelgwaltz) August 15, 2021
The U.S. Embassy flag was lowered Sunday, signifying the end of the U.S. presence in Afghanistan, according to CNN.
As late as Thursday, State Department spokesman Ned Price had said there was no such thing as an evacuation either in the works or taking place.
"This is not abandonment. This is not an evacuation. This is not the wholesale withdrawal. What this is (is) a reduction in the size of our civilian footprint," Price told reporters Thursday, according to ABC News. "The embassy remains open and we plan to continue our diplomatic work in Afghanistan."
Prayers for the Marines and other soldiers who are trying to get Americans out of Kabul.

— Steve Wightman (@stevewightman1) August 13, 2021
However, reflecting the fact that times have changed, the emergency notice posted by the embassy Sunday said anyone with questions should not bother phoning.
In fact, it said in boldface type:
"Do not call the U.S. Embassy in Kabul for details or updates about the flight. This form is the only way to communicate interest in flight options."
As of Sunday afternoon, it was unclear who would even be able to flee the country.
"Two Marines, standing by the runway at the Kabul airport, acknowledged that they were living a moment of history. A little earlier, they said, someone walked by after exiting one of the helicopters cradling a poorly folded American flag: It had just come down off the embassy".

— John Ismay (@johnismay) August 15, 2021
Taliban now control the US Embassy in Kabul, Presidential palace & airport.

Kabul is in chaos, panic & mayhem.

Americans being told to "shelter in place" while bloodthirsty jihadists hunt them.

There will be American hostages & bloodshed.

All of it will be Joe Biden's fault.

— Benny (@bennyjohnson) August 15, 2021
All commercial flights suspended from Kabul airport, only military aircraft allowed to operate – Nato official

— Idrees Ali (@idreesali114) August 15, 2021
CNN was reporting as of Sunday afternoon that most diplomatic personnel who had not yet left were at the Kabul airport waiting to flee.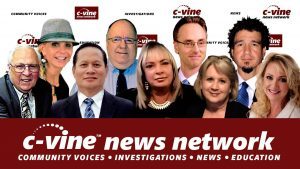 Posted by C-VINE News volunteer citizen journalists
Please click and bookmark:
 C-VINE Social Media Channels 
 *C-VINE.Com, https://c-vine.com
*C-VINE-Telegram,  https://t.me/CVINENEWS
*C-VINE-MeWe, https://mewe.com/join/C-VINE
*C-VINE-Rumble,  https://rumble.com/user/CVINE
*C-VINE YouTube Channel,  https://www.youtube.com/c/CVINENewsNetwork/videos
*C-VINE Commentary & Analysis, https://www.facebook.com/groups/895771901163001/
*C-VINE Business Network,  https://www.facebook.com/groups/1242625425864710
*C-VINE Natural Health News Network, https://www.facebook.com/groups/cvinehealth
*C-VINE Patriot Prayer Brigade, https://www.facebook.com/groups/4826437259486216