March 30, 2022  Zachary Stieber
Newly released bank records show that payments were made to President Joe Biden's son from a Chinese Communist Party-linked company.
Sens. Chuck Grassley (R-Iowa) and Ron Johnson (R-Wis.) presented the records on the Senate floor on March 28 and March 29.
One showed a wire payment of $100,000 to Owasco, one of Hunter Biden's firms, from CEFC China Energy, a now-defunct company closely associated with the Chinese regime,
Another showed a wire transfer of $5 million to Hudson West, a company Hunter Biden invested in and managed, from Northern International Capital, a business that partnered with CEFC. A contract also made public by the senators showed $500,000 went to Hunter Biden as a "one-time retainer fee."
Two others showed a $1 million payment made to Hudson West by CEFC and a transfer of $1 million from Hudson West to Owasco, with the money appearing to go to Hunter Biden for the purposes of representing Patrick Ho, a Chinese businessman who has helped CEFC gain advantages 
through bribery
.
The receipts are just some of the records that "undeniably show strong links between the Biden family and communist China," Grassley said.
The $100,000 transaction was dated Aug. 4, 2017; the $5 million transfer was dated Aug. 8, 2017; the two other payments were made on Nov. 30, 2017, and March 22, 2018, respectively.
Hunter Biden's lawyer didn't respond to requests by The Epoch Times for comment; the White House also didn't respond to an inquiry.
For years, Grassley and Johnson have been probing Hunter Biden, who is under federal investigation, producing a report in 2020 that exposed connections between the younger Biden and Chinese nationals connected to the Chinese regime and military.
Among them is Ye Jianming, a Chinese oil tycoon who founded CEFC. Ye was put under investigation by Chinese authorities in 2018 and hasn't been seen since then.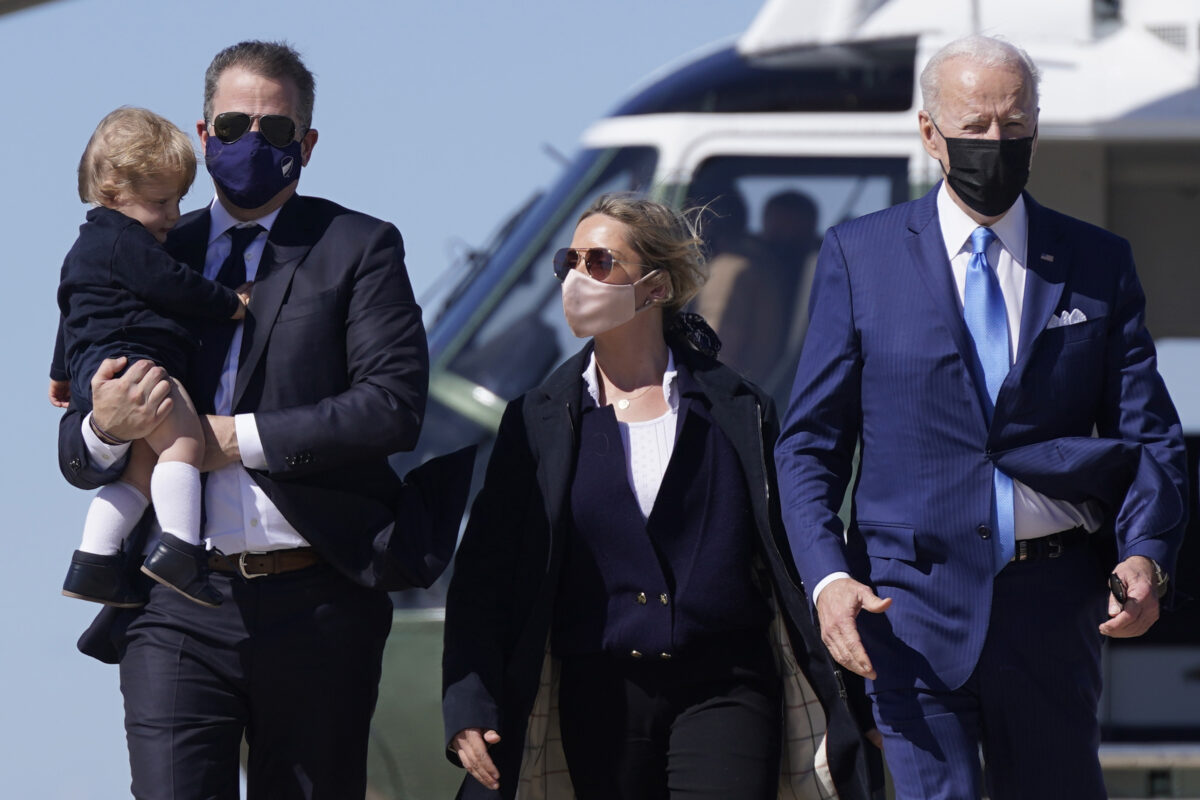 The senators discovered that Hunter Biden made millions from Ye and his company and millions more from Dong Gongwen, a financier and business associate of Ye. Messages later obtained by The Epoch Times showed Hunter Biden had a close relationship with Ye, including being the first guest at the Chinese businessman's new apartment, while other messages listed Joe Biden and Dong as "office mates."
Andrew Bates, who at the time was representing Joe Biden's campaign, claimed the Senate report was using taxpayer dollars to launch "an attack founded on a long-disproven, hardcore right-wing conspiracy theory." Bates is now a White House spokesman.
Acknowledging their efforts have drawn criticism, Grassley told colleagues on March 28 that the report was largely based on records from the Obama administration and almost a dozen interviews with government officials.
Grassley said he and Johnson "did what any good investigator would do: we gathered even more records to prove all these people wrong."
The senators said they plan on releasing the financial records they've obtained in full. Their offices didn't respond by press time to requests for more information.
"Bank records like this piece of evidence are pretty hard to deny and sweep under the rug," Johnson told senators, asserting that the documents show corruption and conflicts of interest that could compromise Biden.
"The evidence is stunning, and it is growing."
Frank Fang contributed to this report.