In the small suburban town of North Bend, Washington, population of about 7,000, business owners and towns people are preparing for a planned Antifa protest tomorrow (6/6/2020) after a protest flyer was obtained and circulated among the people of North Bend. This is a story of strength through unity.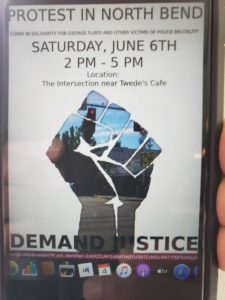 On May 31st, C-VINE news reported that Antifa had warned: "F-the City. Tonight we Move Into the Residential Areas"  Click the link below to read the article:
https://c-vine.com/blog/2020/05/31/antifa-warns-f-the-city-tonight-we-move-into-the-residential-areas-before-twitter-account-shut-down/
Hours after President Trump declared that he'll be designating Antifa as a terror organization, they reportedly made the ultimate threat – we're bringing the war to the suburbs.
Is Antifa making good on that promise?
C-VINE member Brandon Booth and I visited the downtown business district and saw business actively boarding up their store fronts.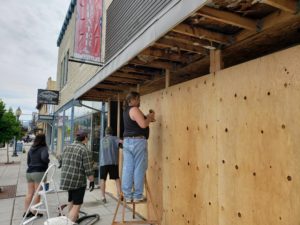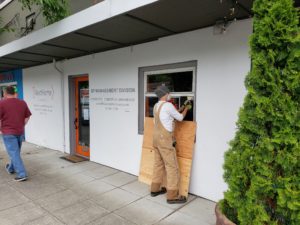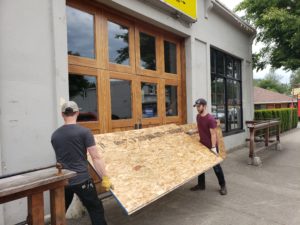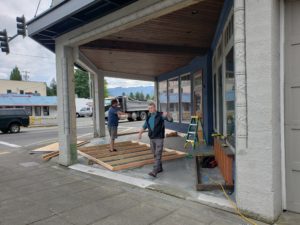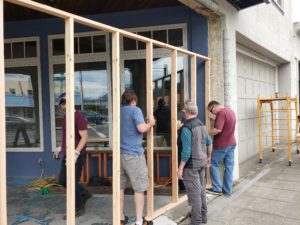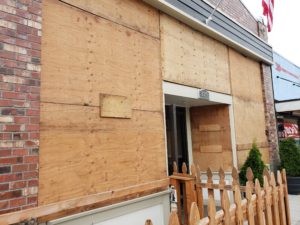 Brandon and I saw a male and female both dressed in all black walking near the location of the planned protest, near the intersection of North Bend Way and Bendigo Highway. The female was wearing a black beanie with the words "Go Away" on the front. The male had the words "Leave Me Alone" on his right shoulder. The male was wearing a black back pack…
All these signs are very typical of Antifa given the totality of the circumstances.
I was able to snap a photo of the two.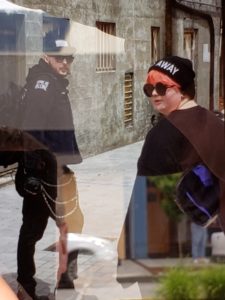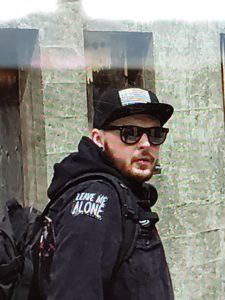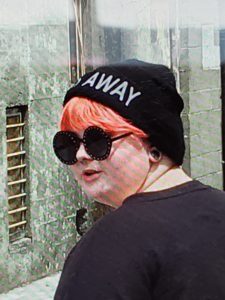 We followed the two to a bank where they met up with a third person, another male, also dressed in all black with the same "Leave Me Alone" patch on his right shoulder and the numbers "666" on his face mask. This male also had a black backpack.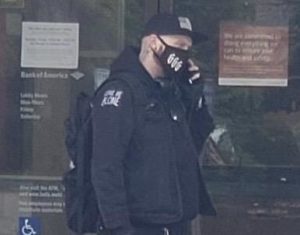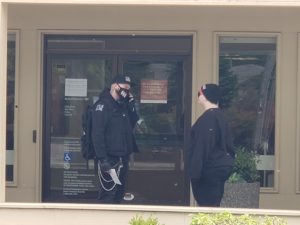 I met with and shared photos and information with an officer from the Snoqualmie-North Bend Police Department.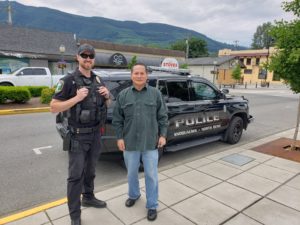 The officer mentioned that open carry (of a firearm) is lawful in the state of Washington without any permit.  His agency will be assisted by the Sheriff's department and other outside agencies if needed.
Brandon wanted to buy more "supplies" so we walked into the town's gun shop, only to find all the shelves nearly empty! The gun shop owner said he cannot keep up with the demand for ammo.
Back to the shop owners. One business owner, who spoke on the condition of anonymity said the town of North Bend community is banding together and ready to protect their lives and protect their business from vandalism and terrorism. The business owner said he will have 50 of his friends, all armed, protecting the community and said the 50 people are just from him. He said others have their own people, also all armed, protecting the people and community.
A little while later, I received a call from a detective from the Snoqualmie-North Bend Police Department. He wanted to know why I believed that Antifa was there. I'm sure he probably already knew, but I told him based on my experience and training, Antifa will normally wear all black clothing and hats or beanies, have anti social markings or anti police markings, and some will wear a black back pack.
I told the detective that typically, some Antifa will carry backpacks containing sophisticated communications systems and/or weapons such as bricks, bottles,  blunt instruments and Molotov cocktail. Some will even have high grade gas masks.
I told the detective Antifa will send in an "Advance or Scout team" to scout out the location so they could determine where to pre-place weapons such as rocks, bricks, bottles, Molotov cocktails, ahead of the protests.
I told the detective they needed to sweep trash containers and dumpsters, bushes, etc., because those are places where weapons are pre-placed. Look for cars with strange antennas. Some of their vehicles might have radio repeater antennas for effective communications.
Antifa is well funded, surprisingly well organized, and now a terrorist organization.
US Attorney General  Bill Barr:
"In many places, it appears the violence is planned, organized & driven by anarchtic left extremist groups—far left extremist groups using Antifa-like tactics."
The community of North Bend is a perfect example of strength through unity.
A quote from our favorite Anon:
"THEY WANT YOU DIVIDED. DIVIDED by RACE. DIVIDED by RELIGION. DIVIDED by CULTURE. DIVIDED by CLASS. DIVIDED by POLITICAL AFFILIATION. DIVIDED YOU ARE WEAK. TOGETHER YOU ARE STRONG. WE, THE PEOPLE. WWG1WGA!" 
---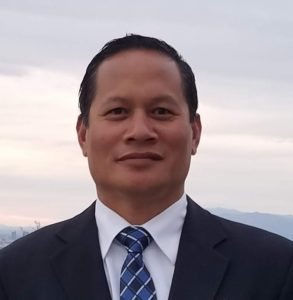 Leonard Bacani is a retired Santa Ana Police Officer and the Founder of HOMELAND SECURITY SERVICES, INC. headquartered in Southern California.HOMELAND SECURITY SERVICES, INC. is a Private Investigation, Private Security firm and State Authorized Training Facility. Contact Leonard at LBacani@hssinc.us for assistance or call the office: (714) 865-1135.      Website: http://www.homelandsecurityservices.com
Follow Leonard on Twitter @LeonardBacani1